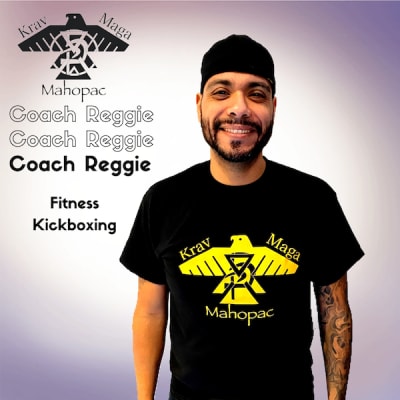 Reggie
Reggie has been a police officer with the City of Yonkers PD since 2011. Reggie has also struggled with being overweight since 1993 and was a victim of yo yo weight loss for many years. When Reggie was called by the YPD and was told he was selected to become a police officer as long as he passed a physical agility test he was on an upswing of weight gain and needed to change his ways. He set a goal and 6 weeks later made the cut. After graduating from the police academy he was in pretty good physical shape.
A few years passed and he gained all his weight back and was nowhere near where he should be as a police officer or father. Needing to get back on track he searched for self defense that would help him both with his life and the lives of his family and fellow officers. He found Krav Maga Mahopac and met Rob Morelli (owner). He began to study Krav Maga and Muay Thai under Rob as well as taking fitness kickboxing classes. The training became a passion for him and he trained 4-6 times a week sometimes 2 or 3 times a day.
Reggie has lost a total of 70+ pounds and is still enjoying the weight loss, self defense and muscle building that comes with every class. He uses the same fire that got him where he is now to fuel others and is very passionate about what he does.