Master Basic Stand Up Fighting Skills With Our Muay Thai Training
Combine stand-up fight training and total-body conditioning today with our Fight 1 Muay Thai Classes at Krav Maga Mahopac. You'll quickly develop a comfort for basic fight movements while perfecting your skills with pad work and live opponent sparring.
Our Muay Thai Classes in Mahopac are perfect for all experience levels and can help you get in great shape while training for competition, recreation, or just a great workout.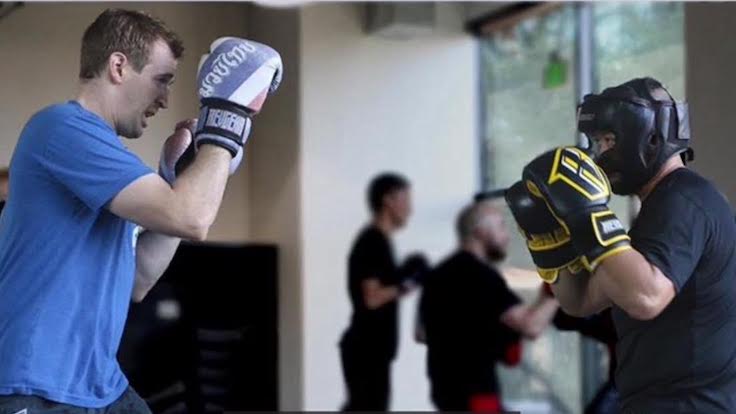 Develop Your Muay Thai Skills In A Safe And Secure Environment
Fight 1 Classes at Krav Maga Mahopac are the best way to learn fundamental fighting skills without the threat of injury or intimidation. Our skilled staff helps you work from the ground up with pad work, partner drills, and conditioning before taking on an opponent in our technical sparring exercises.
You'll quickly learn the ins and outs of:
Basic fight movement
Punching and kicking combinations
Defense against attacks
And you'll never have to fear for your safety. Protective gear, including headgear, a mouthpiece, groin protector, shin guards and 16oz gloves are required for all Fight 1 Muay Thai sessions.
Challenge Yourself Today And Get In Great Shape In A Hurry
Our Muay Thai training at Krav Maga Mahopac is a great way to get in shape fast with high-energy repetition movements and specific conditioning exercises that will help you be at your peak in the ring.
Our Fight 1 classes in Mahopac keep you on your toes and help you develop a total-body strength and endurance on the path to better stand-up self-defense skills.
In no time, you'll enjoy:
Lean, toned muscles
A stronger more stable core
Improved speed and agility
Boosted self-confidence

Take On The Best Muay Thai Classes In Mahopac And Carmel!
Learn the technical skills it takes to succeed in a fight and push your body like never before with our Fight 1 Muay Thai classes in Mahopac. These classes offer a more technical take on self-defense than our flagship Krav Maga classes and help you get in great shape at the same time.
Learn more about everything we have to offer at Krav Maga Mahopac by filling out the short form on your screen today!